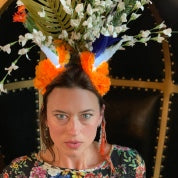 Private In Person Headdress Workshop for Ten People
$1,000.00
Give the gift of creativity and host a private headdress workshop for your besties in the comfort of your own home or space of your choice. Each workshop will include instructions and entertainment by moi plus gorgeous materials, tools, workspace, and style direction.  Pick your own time frame and date. Workshops are three hours long.
We can still celebrate Carnival, just in very small doses. For more information before purchase or if you have any questions please feel free to contact me by clicking here.
*For those outside of the New Orleans Metro Area, please contact me before purchase by clicking here.